ERP, definition : 
The term ERP comes from the English word "Enterprise Resource Planning". It is an information system that allows the daily management and monitoring of all the information and operational services of a company. 
What is an ERP.
ERP is a type of software that companies use to manage their daily activities such as accounting, purchasing, project management, sales management, supply chain operations, etc.
A complete ERP suite also includes performance management software (EPM) that helps plan, budget, forecast and report on the financial results of a company.
The purpose of ERP software is to homogenize the company's IS with a single tool, capable of covering a wide range of management areas. Basically, it prevents you from spending your time exchanging files between departments.
In practice, this means that employees from different divisions, for example accounting, purchasing and sales, can rely on the same information for their specific needs. ERP centralizes the company's database.
Why implement an ERP?
An ERP system optimizes processes, reduces the time needed to manage company data and centralizes this data, which is then accessible to all users in the form they require, depending on the authorizations granted.
The objective of ERP is to increase the overall performance of the company. 
In addition, ERP software and its business intelligence features provide a global vision of the company's activity. Decision-making is more easily facilitated.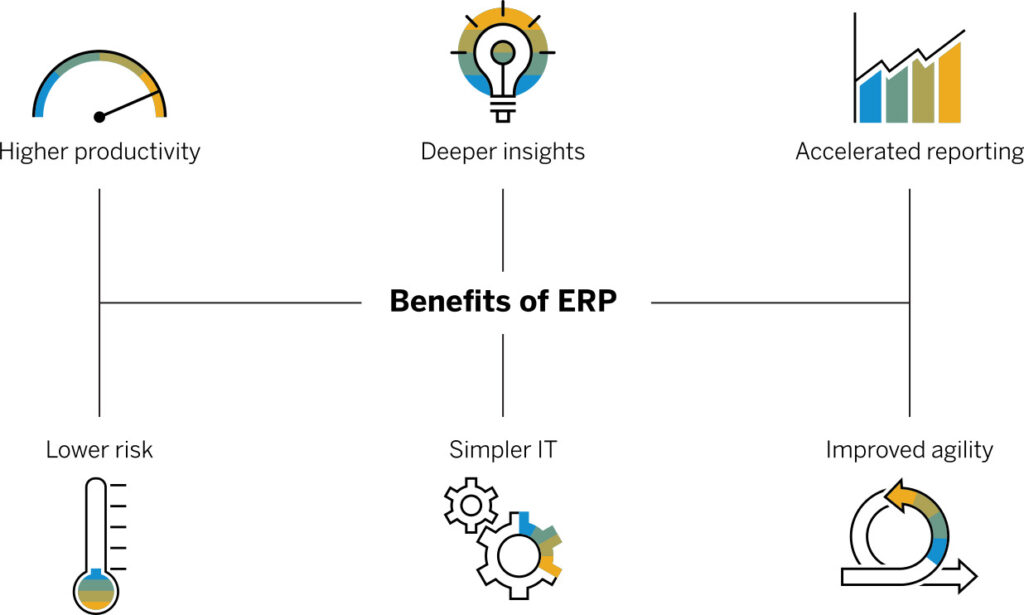 1. Increase productivity : Streamline and automate your key business processes, so everyone in your organization can accomplish more with fewer resources.
2. Deep insights: Leverage a single source of information to answer strategic questions faster.
3. Faster reporting: Speed up your reporting and make it easier to share results. Then use that data to improve performance in real time.
4. Reduce risk: Maximize visibility into your business operations and ensure they meet regulatory requirements, while preventing risks.
5. Simplified IT infrastructure: With integrated ERP applications sharing the same database, simplify your IT operations and make it easier for everyone to do their jobs.
6. Increased agility: By improving process efficiency and providing your employees with real-time access to your data, you can quickly identify and respond to new opportunities.
source : www.sap.com
To summarize
Today, ERP systems are essential for the management of thousands of companies of all sizes and in all sectors. For these companies, ERP is as essential as electricity. Their importance is illustrated by their growing adoption rate. According to Fortune Business Insights™, "the global ERP software market is expected to reach $78.4 billion by 2026, growing at a CAGR of 10.2% between 2019 and 2026."
Faced with the challenges of digital transformation, ERPs must provide companies with a great deal of flexibility, with software that facilitates the integration of external processes and new applications, as users' needs change.
Armony Solution offers different modules that can be easily integrated into your environment for more advanced developments to customize and optimize the use of your ERP according to your needs.
With Armony Solution you increase the potential of your ERP !